Innovation
RGC is an internationally recognized innovator and thought leader in project, program and change management. Our innovative management approaches are published internationally and presented in events.



"Values for Business Value"




represents the mindset on which the RGC management approaches are based.
Holistic definition of solutions, boundaries
Describing a solution holistically, avoiding sub-optimizations
Defining the content-related and social boundaries consistantly
Sustainable business value as success criterion
Ensuring the business value by controlling the benefits realization
Considering principles of sustainable development in management
Quick realization of results and efficiency
Ensuring quick wins
Stopping an unsuccessful activities in time
Using management methods efficiently and flexibly
Iterative approach
Defining, prioritizing requirements iteratively
Using agile methods
Context-orientation
Perceiving the product owner as  an organizational role
Managing of and for stakeholders
Integrating stakeholders
Continuous and discontinuous learning
Using feedbacks and reflections for organizational and individual learning
Promoting learning and de-learning
Perceiving and managing changes explicitly
Empowerment and resilience
Promoting empowerment of team members, teams and organizations
Ensuring resilience of team members, teams and organizations
Frequent, visually supported communication
Performing stand-up meetings, reflections
Using scrum boards, plans, score cards etc. for communication
PROJEKT. PROGRAMM. CHANGE
Gareis R., Gareis L., 1st edition (English), 2018
14 years after the best selling publication "Happy Projects!" Roland Gareis partnered with his son Lorenz Gareis to publish the demanded successor "PROJECT.PROGRAM.CHANGE". It is intended as a handbook for "intrapreneurs" of project-oriented organizations, i.e. for project managers, program managers, change managers and the owners of projects, programs and changes. On the other hand, it is also a textbook for management trainers and consultants, for researchers and teachers in universities and universities of applied sciences as well as for students.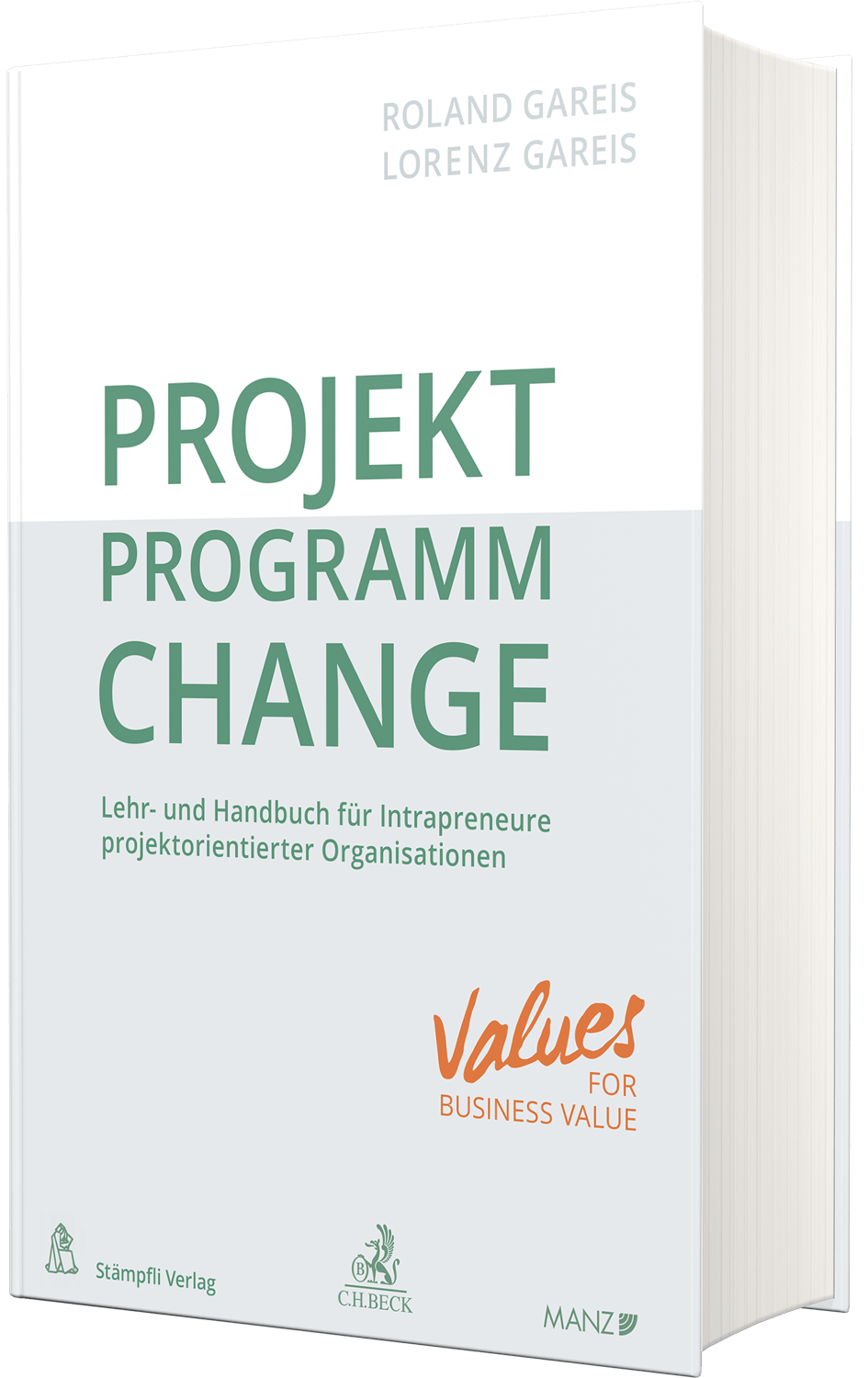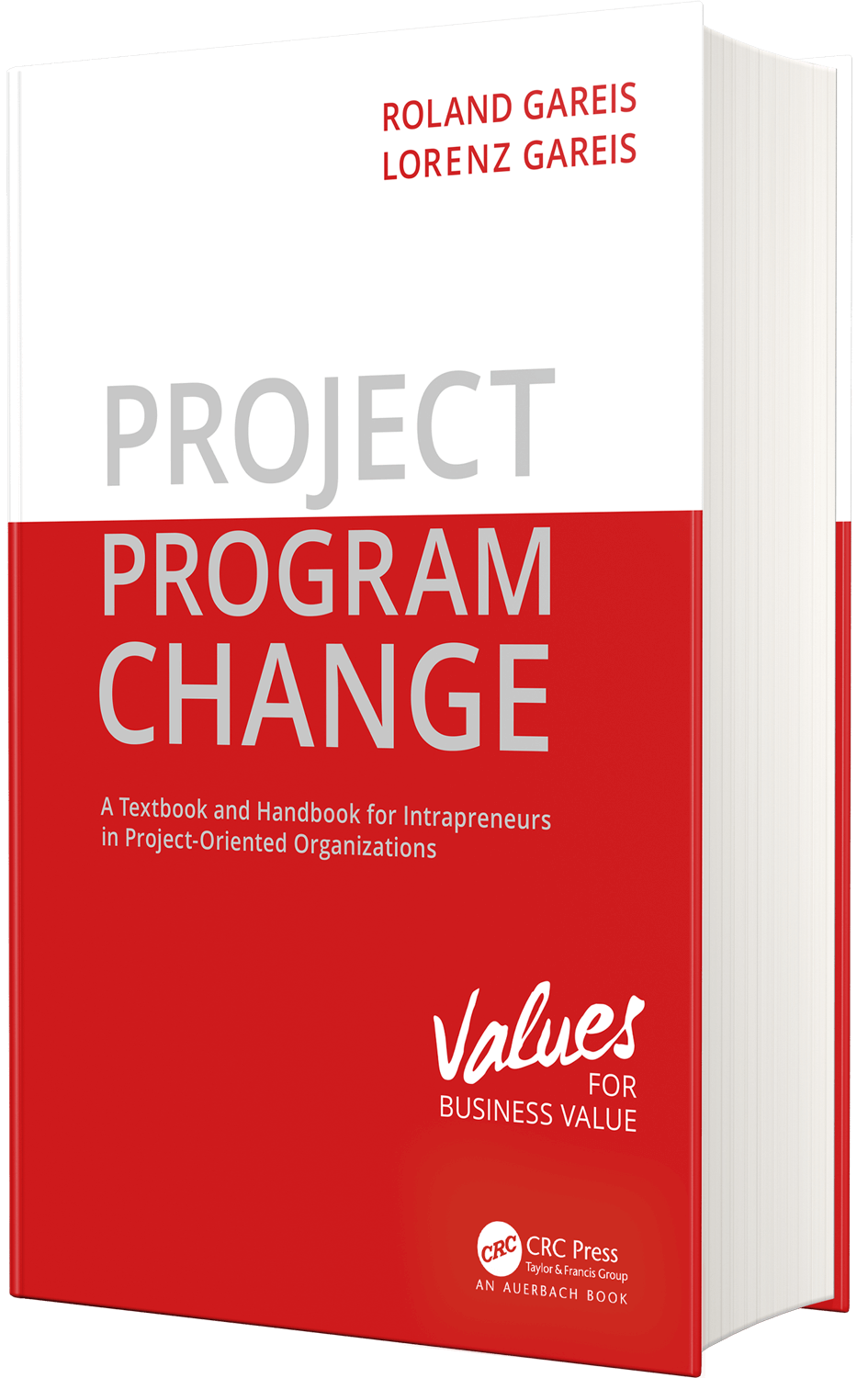 We continue to develop our know-how in sprint-based innovation projects. Key results are published and presented.
In research, we cooperate with universities, colleges and companies. Feedback from peer review groups is used for quality assurance.
The integrative approach of project, program and change management contributes significantly to our USP.
Since 1988, we focus on thought leadership activities. It all started with "Management by Projects" as the revolutionary topic of the IPMA World Congress 1990 in Vienna.
Thought Leadership:
for more than 30 years!
Mindset of the project-oriented company
Processes and methods for adapting the mindset
Consequences of an agile mindset for project, program & change management
Project, Program, Change
Integrative consideration of management approaches
Securing sustainable business values
ONEmanagement
Integrating Process, Project & Change Management
Corporate Governance of the process- and project-oriented company
Sustainable Development & Project Management
Integrating project process and change management
Corporate governance of the project-oriented company
Changemanagement & Projects
Re-thinking project process & changemanagement
Principles of sustainable development
Sectoral Process & Project Management
Macro and micro process management in different sectors
Sector-specific project management standards
Project-oriented Society
Analysis and benchmarking of project-oriented societies
programmIaustria – the Austrian project management initiative
Maturity of the Project-oriented Company
Analysis and benchmarking of the project-oriented society
Consulting and auditing of projects and programs
Projektmanagement Benchmarking
Project & program management processes
Benchmarking of project & program management
Crisis Management
Avoidance, provision for and resolution of crises in project-oriented companies
M
anagement of crises in the society
Management by Projects
Strategies, structures and cultures of the project-oriented company
Systemic-constructivistic project management