Publications
It is possible to purchase our publications directly via the RGC. Please contact us if you have any questions about our products, terms of payment or delivery.
PROJEKT. PROGRAMM. CHANGE
Gareis R., Gareis L., 1st edition (English), 2018
14 years after the best selling publication "Happy Projects!" Roland Gareis partnered with his son Lorenz Gareis to publish the demanded successor "PROJECT.PROGRAM.CHANGE". It is intended as a handbook for "intrapreneurs" of project-oriented organizations, i.e. for project managers, program managers, change managers and the owners of projects, programs and changes. On the other hand, it is also a textbook for management trainers and consultants, for researchers and teachers in universities and universities of applied sciences as well as for students.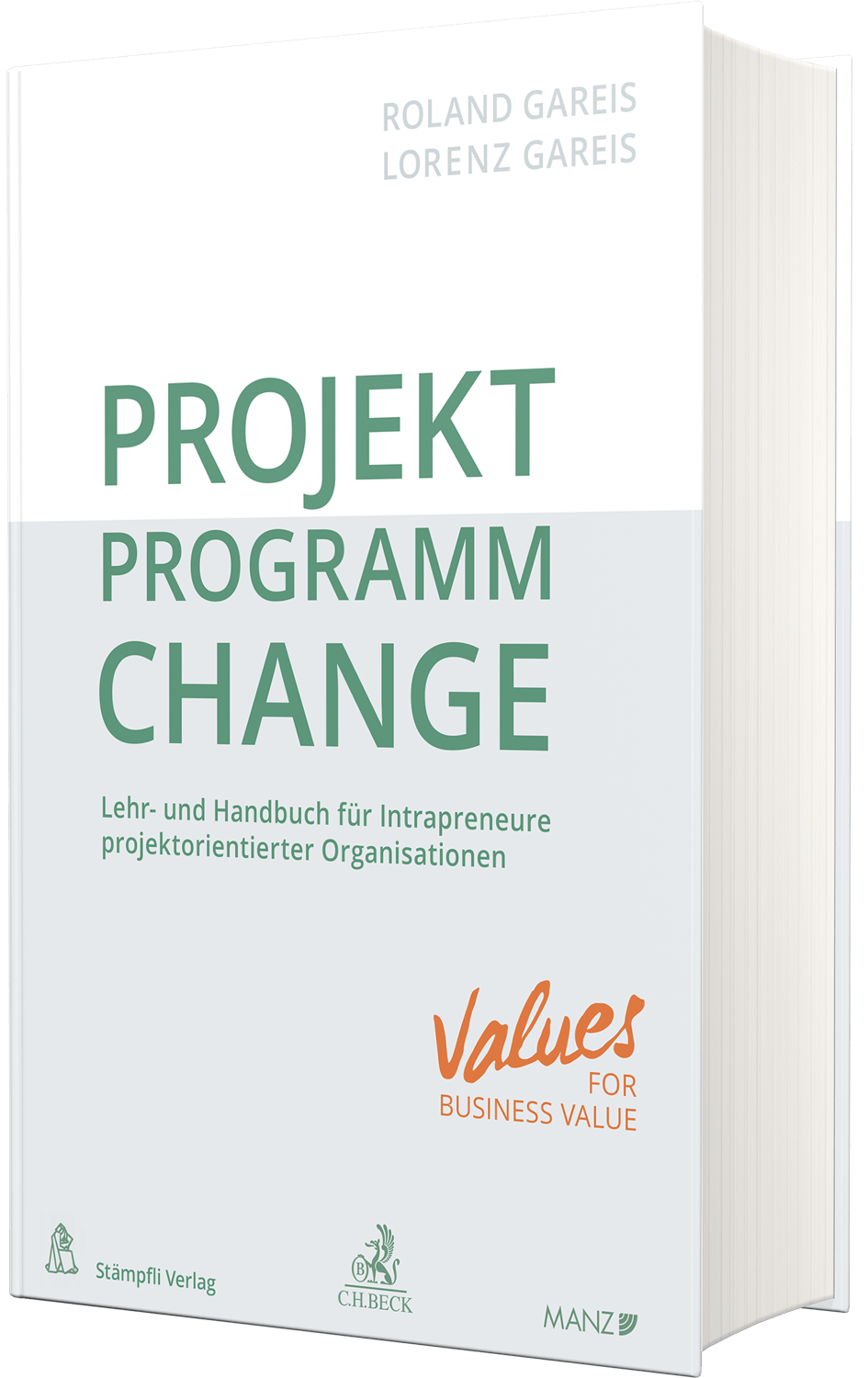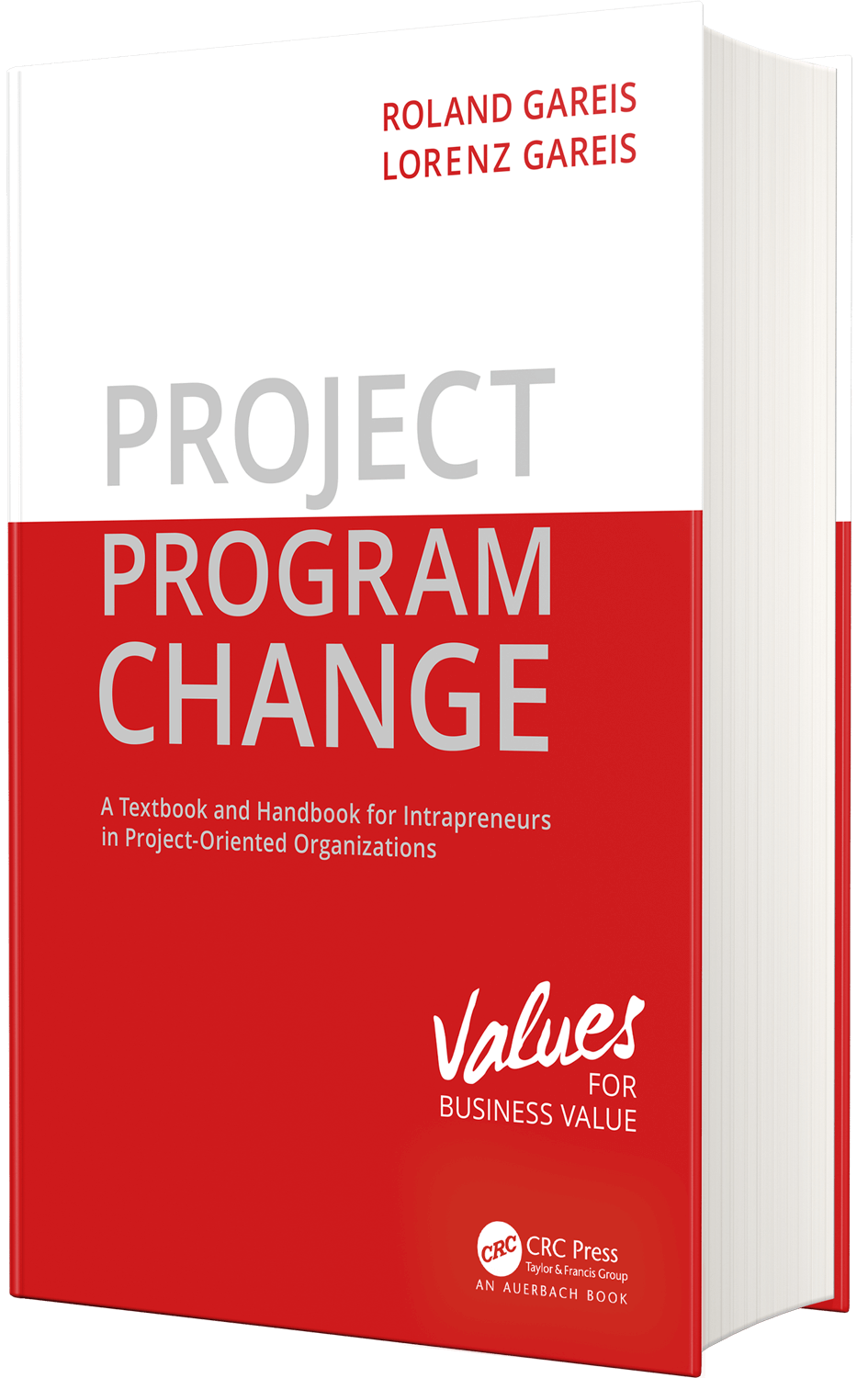 I appreciate the well-grounded presentation of the relations between project, program and change management. The innovative integration of the concepts of agility, sustainable development, benefits realization management and requirements management help me in my daily work.
Mag. David Spreitzer
- Project Portfolio Manager of Borealis AG
PROJECT PROGRAM CHANGE is a must read for any professional as our lives are dominated by changes. Roland and Lorenz have written the definitive book on this topic. What is unique is its organization in that it relates projects, programs, strategies and changes to the new values in which we manage. And the autors put projects in change contexts to assure business value!
Dr. Ginger Levin PMP
- PgMP
Roland Gareis has always been ahead of the trend in the world of projects. In this new book, Roland and Lorenz show a practical way forward at a time when how projects and programs should be lead and managed is changing significantly. It provides a useful guide for those dealing with goal-oriented endeavors in a rapidly changing environment and broad range of contexts.
Professor Lynn Crawford
- The University of Sydney
Comprehensive scientific and practical experience are the basis for the outstanding quality of this book. An excellent source for all who are interested in the latest developments regarding the project-oriented organization.
Dr. Hannes Schuh
- Austrian Ministry of Finance
The content allows readers to incorporate subsequent behaviours into their work.
Handling the dynamics and complexity in project-oriented organizations adequatly.
Practicing a cooperative leadership style in projects.
Ensuring Quick Wins in Changes.
Realizing the use of synergies in programs.
Ensuring early involvement of stakeholders in management.
Practicing the consistent application of methods.
Ensuring the consistent use of terminology in management.
Providing contextual information for the creation of purpose for employees.
Available Titles
German: PROJEKT.PROGRAMM.CHANGE (Manz Verlag, April 2017, 1. Auflage)
English: PROJECT.PROGRAM.CHANGE (CRC Press, September 2018, 1st Edition)
E-Book
Processes & Projects
Gareis R., Stummer M., 1st edition (English), 2006
Process-orientation and project-orientation are organizational strategies for companies. By integrating structures and methods of process and project management essential synergies are created.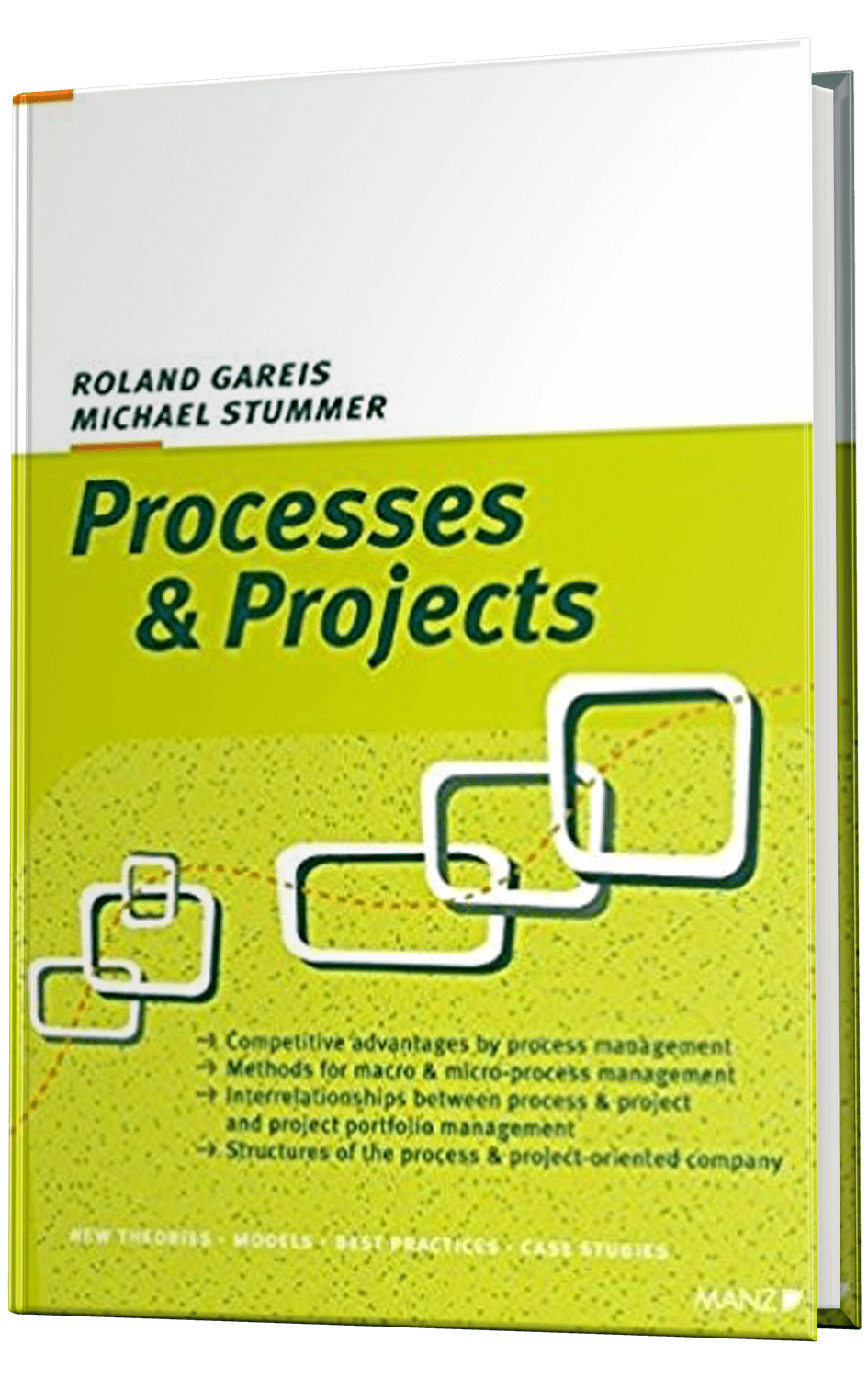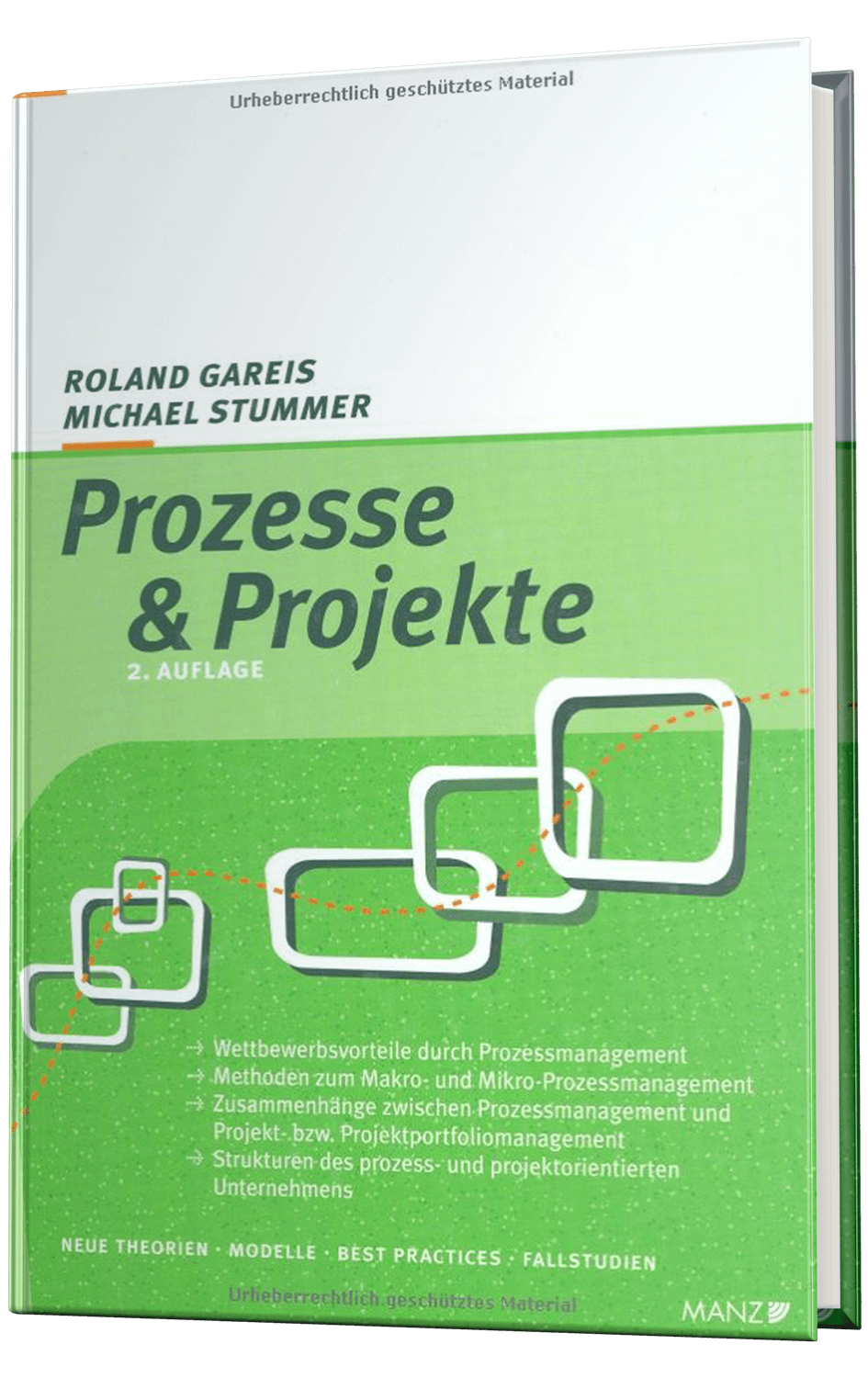 "Processes & Projects" is the handbook:
for managers of process-oriented and project-oriented companies
for process owners and members of process management teams
for project and program owners and for project and program managers,
for employees of process and project management offices and members of portfolio groups
for management trainers and consultants
Available Titles
German: Prozesse & Projekte (Manz,  2007, 2. Auflage)
English: Processes & Projects (Manz, 2008, 1st edition)
Project Management & Sustainable Development Principles
Gareis R., Huemann M., Martinuzzi A., 2013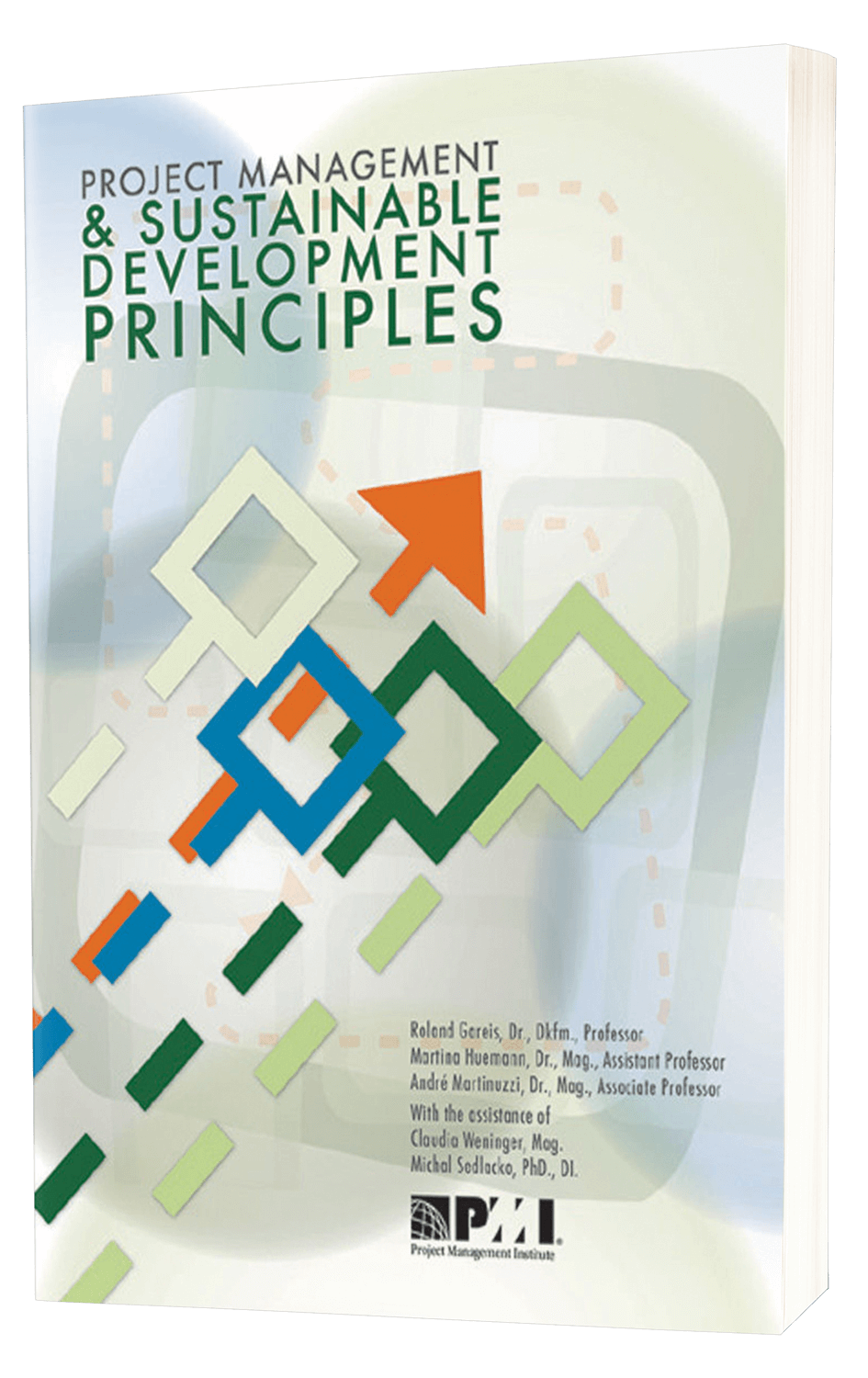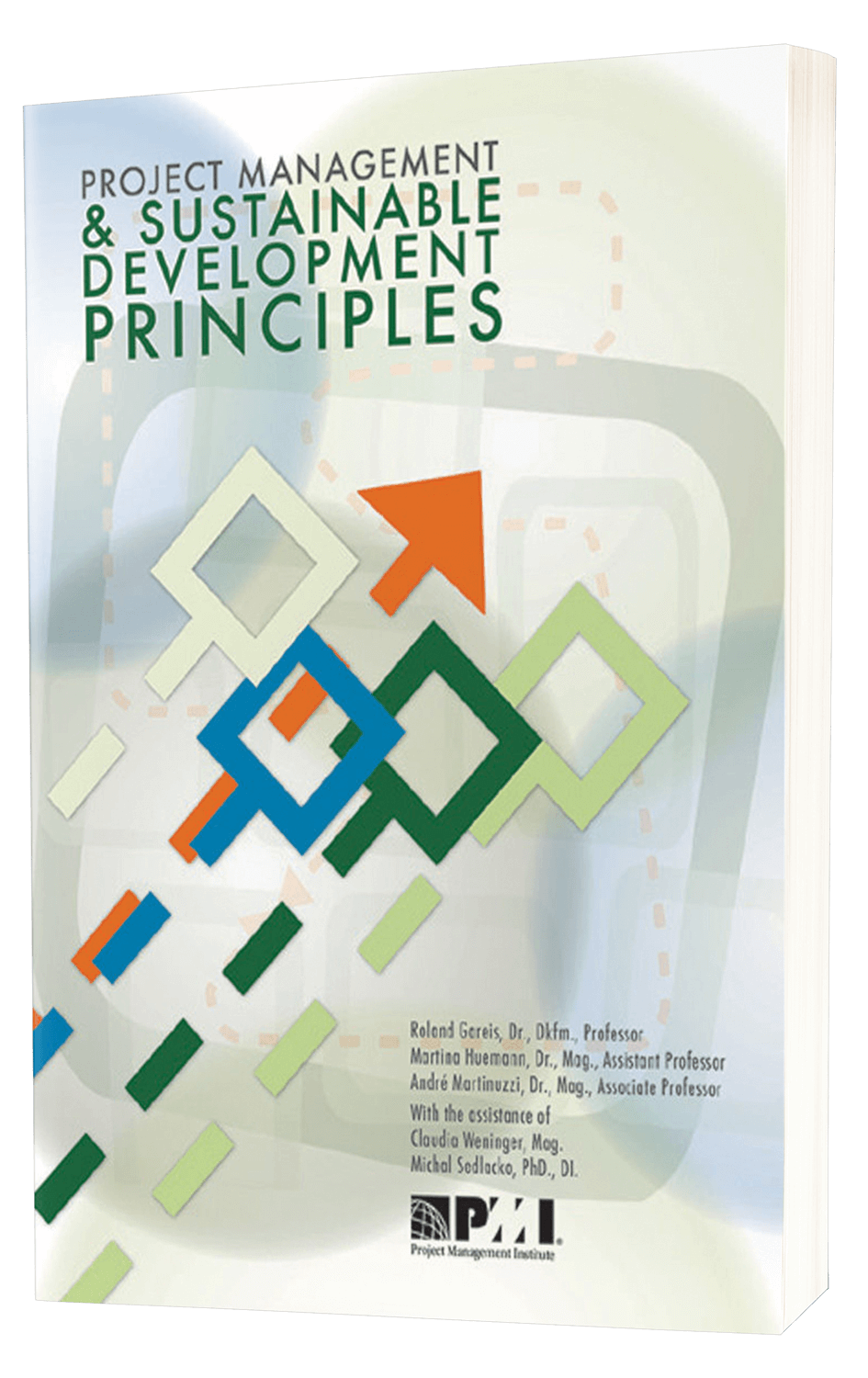 Is Sustainable Development just a PR exercise for organizations trying to demonstrate a commitment to something other than a financial bottom line, or can it bring lasting value? And if it is of value, how can Sustainable Development, which is fundamentally focused on the Long-term, bring value to Projects, which are by definition, temporary?
In 2010, an interdisciplinary team of project management and sustainability practitioners and Researchers from the University of Vienna, supported by Research grant from Project Management Institute, set out to answer these questions. Before their multi-year journey was through, they would find themselves working around the world: debriefing Project Teams at Siemens and OMV Petrom Wind Farms in Brazil and Romania, working alongside executives planning to build a Hospital in Austria and collaborating with Researchers and practitioners at academic conferences in Europe and United States.
We are looking forward to your order!
Please fill in the form below. Form fields marked with (*) have to be filled in.